ARE YOU INTERESTED IN THE LATEST NEWS ON CZECH NANOTECHNOLOGY? JOIN OUR NANODAY BRUSSELS IN THE EUROPEAN PARLIAMENT!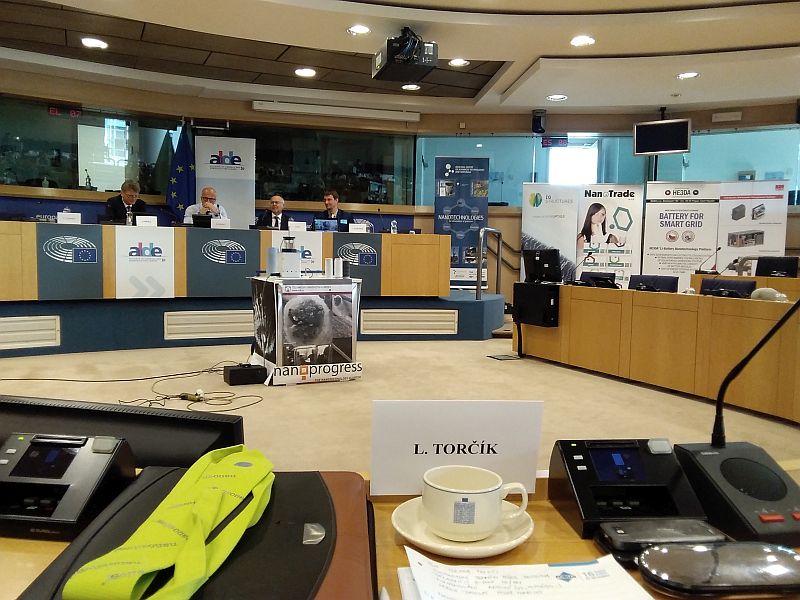 PROGRAM
8,30 – 9,10 OPENING
8,30 – 8,35 Opening remarks Pavel Telička /Vice- President, EP/
8,35 – 8,45 Keynote Jiří Kůs /Chairman, Czech Nanotech Industries Association/
8,45 – 8,55 Peter Dröll /Director, Industrial Technologies, European Commission/
8,55 – 9,05 Claude Turmes /Greens EFA Group/
9,05 – 10,05 PANEL DISCUSSION
/representatives of Czech nanotech industry, Pavel Telička/
9,05 – 9,25 INDUSTRY WITH HIGH ADDED VALUE
/NANOPROGRESS, PARDAM, HE3DA, IQ STRUCTURES, CONTIPRO/
9,25 – 9,45 HEALTH & WELL-BEING
/NANOSPACE, JIMIPLET. NANOTRADE/
9,45 – 10,05 CLEAN WATER & AIR
/ACO MARINE, ADVANCED MATERIALS JTJ, RETAP, NAFIGATE/
10,10 – 10,40 Q&A
10,40 – 10,50 Guy Verhofstadt /Chair of the ALDE Group, EP/
10,50 – 11,00 CLOSING REMARKS /Pavel Telička/
The exhibition of nanotechnology products will be part of this event. We will produce in front of you nanofibers, which are used for wine filtration or in anti-dust mite beddings.
You will see nano-optics, nanoaircleaners, 3D nanobattery, nanofibre respirators and much more.
You may try the magic hydrophobic nano-tie or nanocosmetics and hear latest information about technology for All Year Skiing.
And maybe you can also taste drinking water from pig slurry cleaned by nanotechnology.
NanoDay Brussels 2018 is under the auspices of the Confederation of Industry of the Czech Republic:

This event is organized with support of these partners: